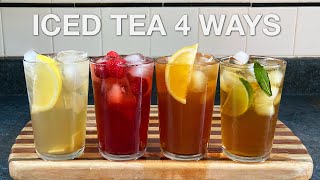 It's hot outside. Forks are melting. Lasagna noodles spice racks are falling apart. The only way to cool down is with a drink made of boiling hot water. The first step to making iced tea is acquiring teabags. These can be found along the public footpaths in the English countryside, Plucked from tea trees, found in rotting tree stumps, wedged in tree crust, inside tree forts, or even under couch cushions. You can find black tea almost anywhere.
Now we're gonna make piping hot water in a gooseneck kettle, although you can use any kind of kettle neck you want, including giraffe neck, turtle neck, necklace, or nectarine. Now we'll put those teabags in some kind of bag vessel and pour in the hot water to steep it; which causes a dark tea cloud to move in(♫ ominous music ♫) like a storm of dissolved compounds; releasing flavor, n̶̲͍̲͘͠ȗ̶͕̰͉̠ẗ̸͓͍͇̥̩͎̰̽̑̆̒̍̏̀ŕ̷̘̌̄͗̂ͅi̶̡͚̘̤̘̫͖̊̇͆̚͝e̴̡̡̜͇̺̮̭͓͖͌̐̉͊̂͂͝n̷̲͇͙͌t̴̘̥̗͆̓́ṣ̶͂̿̾̎̊͋̉͝͠,̷̖̲̩̹̓̌̽͛̓̀̍̎͘ ̶̞̠́̏͐͆̌͒̂͝a̵̞̣̗̰̭͚̰͉̒̂̄̒͌͂͐͑̈͋͜n̶̪͍͔͙̰̽̑d̸̨̧͓̯̲͇̩̻͑̓͆̈́͒̚̚͜ ̶̟̳̊̂̐̓̎̌̑̚͠ų̸͇̠̺̰̳̥̱̀̄n̵̢̡̪̠̠̘̯̼̈̊̾̌t̵͕̠̺̮̪̳͙̫̓͋̽o̴̡͇̖̮̻̺̅̅̍̕l̵̢̟̞͖̘͍͍̦͝ḑ̶͕̭͉̝̻͙͉̦̩̀̕ ̸͕̤̘̥̲̤͈͕͗̏͐͗̌̈̈́̾ň̵̲̪͍̮̅u̸̖͕͉͛́͠m̵͈͉̩̭͌̒̀̆̐̉̔̕̚͠b̶̬̈́̀͐ȩ̵̨͙̭͉̰̺̳̘̇͐͑̈́̊͜ṛ̵̢̈̇̉̔͗s̷̢̭̺̻̙̩̲̤͑̑̆̈̍̏ͅͅ ̵̜̓͊̎̊̈́̈̌̔ǒ̷̢̝͈̯̊̀́̉̋̌͆͗͜ḟ̸̡͇͓̖̰̟͖̹̦̫́̑͘ ̷̡̻̗̣̟̗̻̥̩̀͒̈́͐̀͘͜͝h̴̠̼͕̝̎͑͆̋͑͆̓̇͝a̷͖͚̠̝̜̫̍̿̐̈́u̸̞̪̫̦̎̎̓͗̇͝ń̸̼̍͗̒͝t̴̛̤̹͖̠̭̜͕͐̂͒̐͊̾̑è̴̢̧̗̦̭̯̩̺̜̆̅̂͑͘d̸̖̪̜̗͗͗̄͂̏̍̿ ̸̺̖̝̣͇͕̮͒͒̈̀͐̂̓̏͒̈́t̸͔͖͚͇͔̙͇̮̞͜͠ē̸̦̝̘̲͍̙͎̯͉̖̄̑̆̓̉̔̆̚a̵͙̗̝͚̺̙̯̫͒͜ ̸̧̩̫̻͓̣̱̣̬̒̌͒̂͋̏̔s̶̼̹̜̳͇̣͊̎̄̚͝͝p̸̖̪̩͎͍̓͗̾͂͊̿̅͋̐í̴̢̛̝̱͚̫̲̜̲͇͗͝r̶̢̩̞͙͕͕̤̬̦̻̉̈́i̵͓͕͖̖͍̳͚̎̒̿̽͘͝t̸̹͍͎͓̫̝̝́͜s̴̬̫̤͚͙̙̳̈́̑͆̐ͅ ĭ̴̢̥̗͎͍̀̽̚ͅn̷͕͆̌̊̆̓̏͘̚̚t̶̛͙̃͋̅̈͊͗̂͋ȯ̷͍͖̭̪́̊͐̄̍̄̽̕̚ ̷̛̪̬̞̤̟͕̩͂̊̈́̇̀͊̾̇ẗ̶̗̘̲́͛́̾̔͠ĥ̴̡̡̫̤̟̞̩̬̾́͒̀͐͝è̵̘̊̈̑̑ ̸̘̝̹͐̓͊̓w̵̻̮̘̥̲̓̇̂̓͝ạ̴̰̔̑̈́t̶͕͝ẽ̴̛̟̰̩͚͍͙͔̤̒͒͛͒̈́͝r̴̳̈̒́͆͒̐͆̋̈ ̵̧̡̧͈̳̳̤̼͚͙͋̊̄́a̸͇̙̹̔ń̷̗̤ď̸̳̗̟̼͎͓͐̎͌̉͝͝ ̸̢͓̪̟͍̙̹̰̠̌̈́͒̽͛͆̀̚͝ͅs̸̯̝̣̃́͒̓̓̈́ơ̴̹̤̳̗̯͈̣̼̞̩̿͑̇͘͘o̴̙͛͂n̷̨̢̰̰̙̙̠̓̑̂̏̀̆̐ ̸̱̞̘̰̻̠̗̹̩̾͜ȉ̷̬̋̑͒́͒͠n̷̬̏̂̌̎̒̄t̴̨̬̫͇͕̗̖̤͉̳͑͠o̶͉̗͈̯͙͉̪̍͒̅̓̑͐͜ ̴̮̪̈́͆̐́͝y̷̧͈͍̪͊͌̀̒̈͝ͅo̷̫̗͓̲̣̘͖̼͍̳͌̂͘͠ư̵̡̫͔̥̩̮͙̱̪̾̾̇̈́̔̿͘̚r̸̃͋̐̈́͜ ̶̧̛̹͕̫̹͔̆̆͋̚ͅĕ̸̳̳n̶͈̘͖̹̺̳̜͎̉̾̌̒̑t̵̥̫̙̋̓̒͊͑͋͘͝ͅi̷̧̲̹͎͚͓̘͖͝r̵̛͔̟̀͗́̑̒̽͘̕ȩ̷̭̦̪̤̬̦̯͈̊̿̓͒͊̿́̍͗͜͝ ̷̬̝̠̖̺͔̯̒b̵̰̦̺̱̱̝̹̙̹͑o̶̡̨̗̺͚͙͖͚̫̜̔̓͗̇̓d̷͎̭͗̒͆́̄y̷̧̿̉̔̿̑̈̂͘͘.̵̹̻͇̥̱̯̰̹͆.
Only steep it for a few minutes, because over-steeping it is gonna make it bitter, and then it'll never stop complaining about its ex. Then remove the teabags while enjoying a Russian steam bath. Add in some sugar until it's as sweet as you like; A squeeze of lemon. Now taste and adjust the sweetness before you throw it in the heat remover. Once that's cold, pour it over hardened water blocks, Add in some lemon wedges to make it look cool, and you have some Classic iced tea. Also known as watered-down coffee. If you want iced tea with more flavor, grab yourself a raspberry pod and smash it into raspberry nuggets,.
Then brew some more black tea. Now remove the bags while giving yourself a Nordic spa experience. I'm gonna use this fork as a raspberry elevator to avoid splashing scalding water, Then I'm gonna use the same fork to reduce them to rasp-smither-ber-eens. Add lemon and sugar to taste, Try to avoid the dumbass move of making this in a jar with no handle. Put it in the temperature subtractor, then pour it through a strainer. Enjoy a delicious bite of tasteless berry smithereen pudding. Then pour over aqua dice and add some berry nuggets to make it look cool. And now let's take a quick break to read tea leaves.
It's a kind of fortune-telling where you make loose leaf tea, you drink the tea, then interpret the pattern of the leaves inside the cup to tell your fortune. Oh. Okay. Mmm. For this next iced tea, We're gonna use Earl Grey, which you can find in the pockets of an old raincoat. Throw in the teabags. Add hot water, Release the haunted tea spirits. Take the bags out while watching the Icelandic hot spring from a safe distance; Add in some mint, maple syrup, green lemon; throw it in the molecule slower downer;.
Then once it's cold pour it on some dried out wet squares. Earl Grey tea is one of the best teas to drink when solving a crime, or if you're just feeling suspicious. Take a moment to pay respect to the teabag graveyard. To make green tea, climb to the top of a green tree and grabs some green tea bags, which only ripen at high altitudes. The bags go in, the water goes in; we'll use our dangerous spoon to take the bags out. Pour in 127 bees' worth of honey. Take a piece of ginger, and delicately slice it. Throw it in. Put it in the coolness-multiplier, while remembering that time is an illusion, then pour it over frigid puddle cubes to make it feel cool.
But the best tasting iced tea comes from teabags found inside crop circles. Put out some of aliens favorite food Which is cucumbers, and when they come get it, they'll leave a crop circle as a thank-you note. Which will make the tea tastes really good. And now, enjoy some iced tea, and patiently wait. (♫ piano ♫) ♫You suck at cooking. Oh my God. you, You suck so much.♫.
( ♫ piano ♫) (otherworldly whirring) If you can read this, stop, go make some iced tea. You deserve it for finding this message, champ!